Offering our customers peace of mind
Thorough and rigorous visual inspections

Atmospheric pressure in the packaging room has been adjusted to achieve improved sanitary conditions

Constant, diligent inspections to ensure product quality
Thoroughgoing sanitation management and safety measures every day
Continuous creation of safe products and stable supply of products tailored to customer needs — these describe our mission as a company. At FryStar factories, we process safe ingredients in the cleanest environments possible in order to offer products that customers can consume without worry or fear. In order to achieve this, we have established a sanitation management system based on a wide range of measures and approaches.
The "human factor" is often the source of many problems in production operations, and the mere utilization of expensive production equipment alone will not necessarily lead to safe products. We believe that achieving a good balance between worker abilities and equipment performance can lead to smooth-running, efficient and stable production line operations.
Consumers' interest in food products has been rising rapidly in recent years, and in order to give tangible form to our strong focus on reliable quality, we aim to make even greater efforts than before as we move forward.
Always pursuing higher productivity
Completely automated production, untouched by human hands throughout the entire process

First bread crumb maker to introduce vacuum coolers and storerooms for fresh bread crumbs
Pursuing sustained, stable provision of safe products
Opened in 1989, the Tokai factory boasts full automation as well as equipment and facility improvements carried out every day in pursuit of greater productivity and new possibilities in the panko field. Through the introduction of vacuum cooling equipment, full-scale sanitation management in storage rooms and other such measures, we strive for new technologies as pioneers in our industry. Furthermore, the in-house data and knowledge amassed at our company for more than half a century serve as an extremely valuable asset that can be used to sustain our stable provision of products and cultivate future visions. Our future is founded on our past, and by utilizing these massive stores of data and carefully examining our current state, we work to fulfill our mission as an industry leader.
Uncompromising and stringent quality control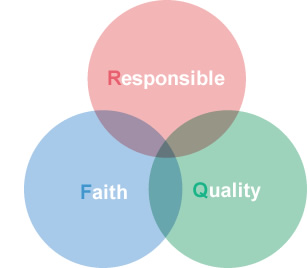 Three principles guiding the employees
who make FryStar products possible
No matter the system or facilities, they are nothing without the people that support and operate them. That is why FryStar places the highest importance on the judgment and values of the people who work for us. Each employee carries out his or her duties to completion — this sincere and dedicated approach is directly tied to FryStar's reliable product quality. In addition, we will strive to achieve a more open corporate structure facilitating better internal communication so that employees in their various workplaces can continue to pursue quality improvement measures more effectively.