FryStar 's Objectives
Our company was founded in 1947 near the massive Ofuna Kannon statue in Kamakura City, Kanagawa Prefecture. Although we originally produced and sold baking powder, one high-speed grinder convinced us to switch our focus over to panko (Japanese-style bread crumbs) instead.
Our predecessors pursued research, accumulated knowledge and developed technologies in the then-unexplored field of panko production while making products that succeeded on the market. Each and every employee maintained a forward-looking attitude as they pursued their work — a way of thinking dating back to the company's founding, and one that remains unchanged today.
As a company that focuses on rich food textures, we will continue striving to provide the best textures available while delivering joy to each customer's table.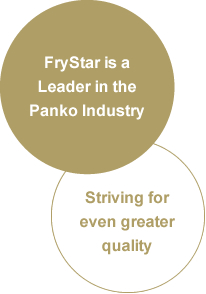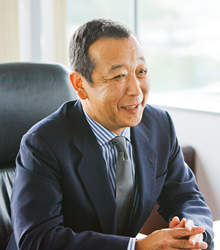 President Director
Seki Masao
Corporate Outline
Company name Location
FRYSTAR CO., LTD.
Shin-Yokohama SR Building 7F, 3-6-1 Shin-Yokohama, Kohoku-ku, Yokohama City, Kanagawa Prefecture, Japan 222-0033
President Director
Masao Seki
Founding
August 1947
Capitalization
43 million yen
Number of employees
143
Business
Manufacturing and sales of panko and other food products
Annual sales
4.3 billion yen
Main bank
The Bank of Yokohama, Ltd. Bank of Tokyo-Mitsubishi UFJ
Affiliated companies?
FryStar Logistics Co., Ltd.